Editors' Pick

Sand Castle: 6 Children's Patterns

This sweet children's collection from the 6/2011 issue features nice basics for boy & girls

Courses

September Course Calendar

Check out what excited and new courses are starting up this month on BurdaStyle Academy!

Member Project of the Week

Janene's Maxi Dress

We love her adjustments to this BurdaStyle pattern. Beautiful work!

Backstage Report

It's National Sewing Month!

We have a few exciting surprises up our sleeves to celebrate the best month of the year!

Editors' Pick

Modern Lines: 9 New Patterns

This collection features fall styles for the futuristic gal who doesn't mind standing out in a crowd
Pattern Making 101
Have you always wondered about pattern making and wish you knew how to work all those drafting rulers to create your own stylized sewing patterns? This course is all about the 101 of pattern making!
This modern collection from the September 2015 issue of BurdaStyle features fall styles for the f...

Are you fed up with uncomfortable and expensive undies that simply won't fit? Do you dream about...

Hi everyone! My new course Pattern Making 101 course starts on Sunday, and I have designed it to ...
Pattern of the Week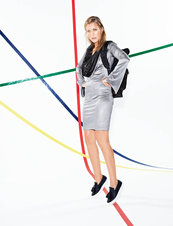 Produced by burda style magazine