Web Seminar

Get the Perfect Fit!

Tailoring a Jacket for the Perfect Fit and a Professional Finish

Pattern of the Week

Red Skirt

Show a little leg in this sexy skirt with a thigh high slit!

Backstage Report

Get ALL the Patterns from the BurdaStyle 01/2015

In this Flagship Kit for only $19.99

Editors' Picks

Dress Up Day: 5 New Children's Patterns

The kids are sure to steal the show in this charming collection of classic, elegant pieces.

Member Project of the Week

Peneloping's Scuba Dress

She made this dress for her high school graduation, and it looks fab!
The Perfect Fit: Tailoring Course
Learn how to apply your body measurements to create a set of slopers from scratch and how to copy garments to produce a pattern that fits you perfectly!
LAST chance to sign up, don't miss out on polishing up your fitting techniques
Join Denise Wild and learn the basics of sewing, including various stitches and seam finishes and...

We are super excited to announce our new kit that just launched! We have put together ALL the pat...

Join Meg in this in-depth video showing you how to complete all the tricky components to perfecti...
Pattern of the Week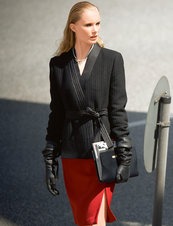 Produced by burda style magazine
If you are a Burda Fashion member, we welcome you!
For more information concerning this recent change, please see this blog post