Backstage Report

National Sewing Month

It's a wrap! Check out just some of the highlights from National Sewing Month

Competitions

Sew Spooky Halloween Costume Contest!

Sewing is fun all year-round, but nothing beats being able to make our own Halloween costumes!

Sewing Lesson

Flared Dress

Check out this sewing lesson with diagrams on making our Flared Dress pattern from the 5/2015 issue!

Pattern of the Week

Crossover Blazer

We are shining a light on one of our most popular blazer patterns!

Editors' Pick

Evening Elegance: 9 New Plus Size Patterns

This new plus size collection from the 10/2015 issue features elegant looks for an evening out!
Sewing Corsets with Drapery Decoration
After completing this course you will be able to design and sew any wedding, evening or casual corset - fast and easy!
Register now and learn the best method of a beautiful drapery decoration
This collection from the October 2015 BurdaStyle issue is small but mighty! It features four diff...

Here is an easy to follow sewing lesson for our Flared Dress sewing pattern that debuted in our C...

Sewing is fun all year-round, but in our opinion, nothing beats being able to make our own Hallow...
National Sewing Month Sew Along!
Celebrate with us and join this sew along! Registration is only $5.99 and you will get 4 sewing patterns.
Pattern of the Week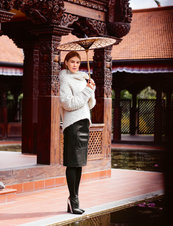 Produced by burda style magazine