Sewing & Techniques

Your Guide To Thread And Needle Size

Say goodbye to skipped stitches and damaged seams!

Fashion & Trends

Celebrity Style Inspiration: Kim Kardashian

Flaunt those curves in Kim-approved bombshell looks.

Backstage Report

Surprise Labor Day Sale!

50 Select Red, White, and Blue patterns are 50% off!

Backstage Report

Make your own Personal Lingerie Collection

Meg got an inside look into our new course, and see why she thinks you need to register too!

Editors' Pick

Necessary Neutrals: 10 Fall Essentials

Leopard print, stripes, and mod coats for fall.
Collars, Cowls and Necklines: Pattern Drafting Techniques for Customizing the Neckline of Any Style
In this web seminar, you'll learn how to draft a variety of collar styles, as well as drafting cowl necklines of varying depths.
An eye catching neckline can transform the look of an otherwise simple garment with just a few added steps...Sign up here!
BurdaStyle Plus Size Essentials Kit
Create your own plus size wardrobe with these essentials. You'll get seven patterns for every day, a pattern grading web seminar, and two technique videos with helpful adjustments.
We're wishing BurdaStyle U.S. magazine a very happy first birthday! Show us how the magazin...

We are excited to announce that we now offer our popular bodice and skirt slopers in plus sizes! ...

Ready to try Amy Barickman's Magic Patterns? See how you can win a fabulous prize with the Magic ...
Unmentionables: Create your own personal lingerie collection for all sizes and skill levels
From purely simple to elaborate designs using the most up-to-date professional design and sewing techniques for slips, camisoles, several types panties, bras, garter belts and much more.
Sign up for this 8 week course and learn how to transform the blocks into unlimited styles combining basic designs with your creativity!
Pattern of the Week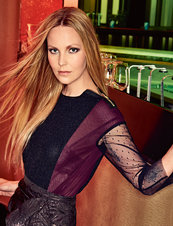 Produced by burda style magazine
If you are a Burda Fashion member, we welcome you!
For more information concerning this recent change, please see this blog post