Pattern of the Week

Shawl Collar Wool Jacket

Turn down this jacket's deep shawl collar for the illusion of a coat that slips off the shoulder!

Backstage Report

The Party of the Season is Almost Here!

RSVP for The Sewing Party and take a peek at exciting classes you won't find anywhere else.

Editors' Pick

Animal Attraction: 10 Wild Patterns

Exotic prints and silhouettes combine for this alluring collection

Fashion & Trends

10 Thoughts Everyone has...

While Sewing Their Own Halloween Costume (in GIFs!)

Member Project of the Week

Victorian Witch Costume

Rwest1014's created this gorgeous skirt to wear Halloween after Halloween.
How to Ensure Big Sales for your Business on Two Important Shopping Days: Black Friday & Cyber Monday
Learn how to generate sales for Black Friday, Cyber Monday and pre-orders!
Sign up and learn how to plan your strategy to get customers buying your products
Enter the Fall in Love with Embroidery Sweepstakes
Enter to win one of four weekly prizes, including the PFAFF® expression™ 3.5 sewing machine PLUS the TruEmbroidery™ elite Software.
30 select jacket and coat patterns are now marked down to $3.99. See the full list and start shop...

Instructor Deborah Moebes just invited us into her studio to chat about her upcoming course, Flat...

This stylish military-inspired jacket will make a great addition to any wardrobe with it's flatte...
Fabric Design with Illustrator & Photoshop
In this course, you'll learn exactly how to take your artwork - whether it's a watercolor painting on paper or a geometric vector image in Illustrator- and turn it into a repeating pattern ready for fabric printing!
Sign up for this 8 week course and create your own designs to be printed on fabric at on-demand printers
Pattern of the Week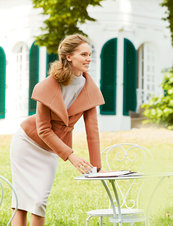 Produced by burda style magazine
If you are a Burda Fashion member, we welcome you!
For more information concerning this recent change, please see this blog post