Backstage Report

2014 in Review!

Sew in the new year with patterns that were 'the' patterns 2014! (we are also putting them on sale)

Member Project of the Week

iewa's White Camel Coat

She modified this coat wonderfully by adding length and changing the pockets and collar

Competitions

Member Model Challenge: Winner is Announced!

Congratulations to addiemiller22 for winning, and now being the face of our Cascade Designer Dress!

Editors' Picks

Style Blog: 9 New Trendy Styles

Flaunt your sewing skills as well as your fab fashion sense in these modern, head-turning designs

Courses

Digital Pattern Drafting

Watch Meg's promo of our upcoming course! It is the future of at-home pattern drafting...
No Serger? No Problem! Sewing Knits Successfully With a Sewing Machine
Learn how to successfully sew stretchy fabrics using a conventional sewing machine.
Sign up and create perfect hems and seams using tips and techniques!
In Digital Pattern Drafting you'll learn how-to modify, grade, tile and print your patterns...

Think snowflakes, marshmallows and white hot chocolate… Get in the Winter spirit and shop o...

During this web seminar, you'll learn how to successfully sew stretchy fabrics using a conv...
Digital Pattern Drafting Course.. Have you signed up?
This course will teach you how to digitally create your own library of pattern blocks in Adobe Illustrator
Sign up and learn how to modify, grade, tile and print your patterns ALL from your computer
Pattern of the Week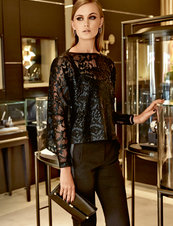 Produced by burda style magazine
If you are a Burda Fashion member, we welcome you!
For more information concerning this recent change, please see this blog post