Editors' Pick

Field Trip: 11 Patterns for the Countryside

Go far afield in this collection of bib dresses, waistcoats, and wool jackets in textured fall fabri

Sewing & Techniques

Pant Alterations

Check out this jean alteration technique and find out how you can learn more!

Fashion & Trends

Styling a Men's Shirt

Three takes on how to wear a menswear essential.

Member Project of the Week

Misslivia's Stephanie Wedding Dress

A gorgeous confection with a surprise peach chiffon layer.

Featured Member

Featured Instructor: Alicia Sanchez

Meet the colorful designer behind our upcoming fashion design course.
Professional Hemming Techniques: Machine and hand stitches for sewing the perfect hem on all of your garments
Learn about different kinds of hemming techniques to create the perfect finish on all of your sewing projects!
Sign up and find out the best way to hem different types of garments
Enter the Magic Pattern Book Sewing Contest
Sew up the Adelaide, the Francesca, or any other pattern from The Magic Pattern Book, and you could win a new Baby Lock Serger!
BurdaStyle's very own Meg Healy turns 25 this weekend! Help her celebrate the quarter centu...

This is a great video to watch if you want to sew a pair of stunning pants and advance your sewin...

If you already have a business or a product you're selling, this web seminar will help you grow y...
The Perfect Fit: Tailoring Course
Through video and illustrated tutorials, learn how to apply your body measurements to create a set of slopers from scratch and how to copy garments to produce a pattern that fits you perfectly!
Sign up for this 6 week course and polish up your fitting techniques to adjust patterns effectively and alter RTW garments.
Pattern of the Week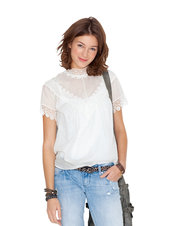 Produced by burda style magazine
If you are a Burda Fashion member, we welcome you!
For more information concerning this recent change, please see this blog post