Fashion & Trends

Escape with these Vacation Sewing Patterns

Vacation planned for the winter? Sew up these style to take away with you and also get 20% off!

Courses

Achieve the Perfect Fit!

We have just extended registration to accommodate a few more students

Editors' Pick

Sew in Love

Make your Valentine's Day Extra Special, by Making your own Date Night Attire! There is still time..

Editors' Picks

Denim Days: 8 New Sewing Patterns

Revamp those outdated wardrobe staples with chic designs in crisp white and classic denim...

Web Seminar

Pant Fitting for All Sizes: Fit Made Simple

Learn the skills you need to create a pant pattern that fits beautifully
Pant Fitting for All Sizes: Fit Made Simple
Gain confidence as you learn the skills you need to create a pant pattern that fits beautifully!
Sign up if you have ever found sewing pants to be intimidating
Join Denise Wild and learn the basics of sewing, including various stitches and seam finishes and...

We are super excited to announce our new kit that just launched! We have put together ALL the pat...

Join Meg in this in-depth video showing you how to complete all the tricky components to perfecti...
Pattern of the Week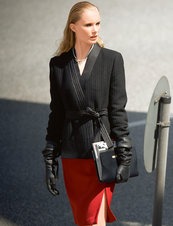 Produced by burda style magazine
If you are a Burda Fashion member, we welcome you!
For more information concerning this recent change, please see this blog post