Retro Pattern

Blouse and Pant Suit

Dive back into 1956 with this stylish two in one pant suit pattern!

Member Project of the Week

Strapless Bustier Dress

Get inspired by printed floral bustier dress with flounce! It is so summery.

Editors' Pick

Surfer Girl: 10 New Sewing Patterns

The style is cool and sporty beach wear that can be worn anywhere!

Pattern of the Week

Floral Pencil Skirt

This pencil skirt is perfect for everyday wear! We love it in floral.

Editors' Pick

Photo Bombshell: 8 New Plus Size Sewing Patterns

This collection will make you shine in front of the camera!
This plus size pattern collection is showcased in the June 2013 issue of burda style magazine. Th...

Hair bands not only make a bad hair day tolerable, but they also are the crowning glory to many o...

Join the summer party this season! These fashionable and bright designs are from the May 2013 iss...
Pattern of the Week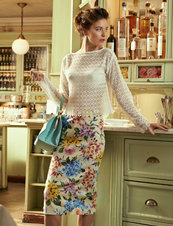 Produced by burda style magazine
BurdaStyle Sewing Vintage Modern
A BurdaStyle guide to mastering iconic looks from the 1920s to
the 1980s. Buy the book
If you are a Burda Fashion member, we welcome you!
For more information concerning this recent change, please see this blog post