Fashion & Trends

Wear it Now, Wear it Later: The Silk Tank

Style this favorite tank for late summer and fall.

Competitions

Vote for the Button Lovers Grand Prize Winner!

See all entries and vote.

Competitions

Enter the Magic Pattern Book Contest and Sweeps

See more prize details and how to enter...

Editors' Pick

Urban Renewal: 8 Patterns for the City

Cool greys transition from summer to fall in a shirt dress, flowing maxi skirt, and new jackets.

Backstage Report

The First Menswear Kit is here!

8 patterns, a web seminar, and technique videos for sewing menswear.
Collars, Cowls and Necklines: Pattern Drafting Techniques for Customizing the Neckline of Any Style
In this web seminar, you'll learn how to draft a variety of collar styles, as well as drafting cowl necklines of varying depths.
An eye catching neckline can transform the look of an otherwise simple garment with just a few added steps...Sign up here!
BurdaStyle Plus Size Essentials Kit
Create your own plus size wardrobe with these essentials. You'll get seven patterns for every day, a pattern grading web seminar, and two technique videos with helpful adjustments.
We're styling one of our most popular summer tops two ways… see how to wear the Silk ...

It's time to enter the Magic Pattern Book sewing contest and sweepstakes! Read on for full ...

Cool greys transition from summer to fall in a chambray shirt dress, flowing maxi skirt, and cool...
Unmentionables: Create your own personal lingerie collection for all sizes and skill levels
From purely simple to elaborate designs using the most up-to-date professional design and sewing techniques for slips, camisoles, several types panties, bras, garter belts and much more.
Sign up for this 8 week course and learn how to transform the blocks into unlimited styles combining basic designs with your creativity!
Pattern of the Week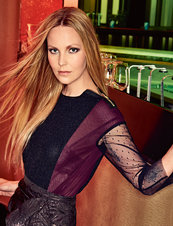 Produced by burda style magazine
If you are a Burda Fashion member, we welcome you!
For more information concerning this recent change, please see this blog post