Courses

Introduction to Sewing with Denise Wild!

Check out Denise's new video and find out why you should sign up now!

Courses

6 Reasons To Wear Tailored Garments

Why you should wear clothing made to fit YOU! (In GIF's)

4 Week Online Course

Sewing Knits without the Serger

Use Coupon Code: KNITS15 and Register for only $49.99!

Fashion & Trends

Escape with these Vacation Sewing Patterns

Vacation planned for the winter? Sew up these style to take away with you and also get 20% off!

Courses

Achieve the Perfect Fit!

We have just extended registration to accommodate a few more students
Underneath it all: Sew your own Lingerie
Meg Healy will show you how to sew your own 3-piece lingerie set in time for Valentine's Day!
Sign up and step outside your sewing comfort zone with this web seminar!
Info

Produced by burdastyle

Type

PDF

Size

N/A

Difficult

Novice

Rating
Join Denise Wild and learn the basics of sewing, including various stitches and seam finishes and...

We are super excited to announce our new kit that just launched! We have put together ALL the pat...

Join Meg in this in-depth video showing you how to complete all the tricky components to perfecti...
Pattern of the Week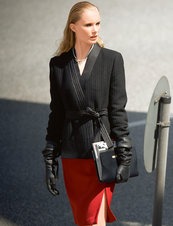 Produced by burda style magazine
If you are a Burda Fashion member, we welcome you!
For more information concerning this recent change, please see this blog post