Editors' Pick

Ciao Bella: 9 Sophisticated Fall Designs

Tour a European city in these tailored classics in shades of camel and merlot.

Backstage Report

Dressmaking 101 Kit

Design your own dresses with the latest special price technique kit.

Editors' Pick

Halloween Time

Check out these new costume sewing patterns for the whole family!

Member Project of the Week

Halter Neck Dress 116

EstherMarguerite modified this halter style with straps and a fun Hawaiian print.

Competitions

Enter the Fall in Love with Embroidery Sweepstakes

4 weekly drawings, including a Grand Prize valued at more than $4,000!
How to Make Halloween Costumes with Your Fabric Stash
During this webinar, you'll learn how to make custom costumes without sewing patterns AND use your left over fabrics to sew something new!
If you're unsure of what you are going to be for Halloween this year, sign up for this web seminar!
Enter the Fall in Love with Embroidery Sweepstakes
Enter to win one of four weekly prizes, including the PFAFF® expression™ 3.5 embroidery machine PLUS the TruEmbroidery™ elite Software.
Register here and join me on this 6 week course to your perfect fitting tailored pattern

The most glamorous, over the top fashion week of them all starts now. Take a look at a few of the...

If you're ready to take on the challenge and make that final leap from skilled sewer to professio...
Pattern of the Week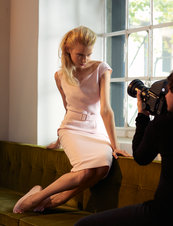 Produced by burda style magazine
If you are a Burda Fashion member, we welcome you!
For more information concerning this recent change, please see this blog post