Editors' Pick

Casting Call: 8 Stylish New Patterns

Cute dresses, tops, and a silky bomber jacket to look like a model off duty.

Fashion & Trends

Festival Fashions Week 2

Trending styles from the final weekend of Coachella Music Festival

Denise's Desk

Add Flair To Your Leggings

Add a flash of color to your leggings for spring!

Denise's Desk

Dress Like Royalty This Spring!

Check out Kate Middleton's stand-out spring dress

Pattern of the Week

Tank Dress with Gathered Skirt

You'll want to wear this dress to tiki parties, spring weddings, and afternoon dates...
Pattern Drafting: Learn How to Develop your own Personal Bodice and Skirt Slopers
In Monday's Web Seminar learn how to develop slopers from YOUR body measurements, which you can use to create all kinds of new designs that you know will fit!
Click here to register for Monday's Web Seminar and learn how to manipulate basic slopers and add design elements.
Leggings… what's not to love? They are comfortable, cute and convenient! Whether you ...

The Duchess of Cambridge has a knack for selling out the dresses she's seen wearing in reco...

In this week's new BurdaStyle Video, learn how to sew the Starburst Skirt!
Pattern of the Week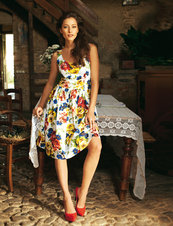 Produced by burda style magazine
If you are a Burda Fashion member, we welcome you!
For more information concerning this recent change, please see this blog post