Pattern of the Week

Knee Length Coat

This coat is a quick and easy sew, and results in something that will keep you warm and stylish!

Editors' Pick

Ski Trip: 12 Patterns for the Slopes

Plan a weekend getaway in these sweater dresses and furry accessories.

Member Project of the Week

104 Orchid Trench

Clothingengineer made a classic trench in Pantone's 2014 color of the year. Take a look!

Fashion and Trends

Menswear Style: Novelty and Edgy

Check out this post all on menswear, and see how Meg was inspired to create her own men's shirts!

Backstage Report

BurdaStyle Videos: Sew a Rolled Hem on a Serger

Learn how to set your serger up for sewing a rolled hem in this week's new BurdaStyle Video!
Sweater Rehab: Give fresh life to well-loved sweaters!
Reweaving sweaters can be REALLY expensive, so learn how to easily patch those moth holes, cover stains, add appliques and embellishments, and update your look.
Take a peek at a few of our favorite party dresses, and how to style them, just in time for the h...

What better opportunity to utilize your sewing skill then to make your holiday gifts! I love both...

If you have a little girl in your life that loves to dress up, this is the collection for you! Sw...
Pattern of the Week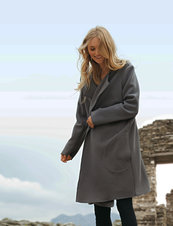 Produced by burda style magazine
If you are a Burda Fashion member, we welcome you!
For more information concerning this recent change, please see this blog post