Editors' Pick

Rustic Weekend: 9 Country Designs for the Outdoors

Go far afield in wrap dresses, detailed jackets, and comfy separates for fall.

Meg's Magazine Mash Up 2014

Project Debut

Check out Meg's finished Mash Up project of her denim suit and see how you can sew along!

Fashion & Trends

DIY Halloween Costume: Frozen's Elsa and Anna

Dress like your favorite heroine from Disney's Frozen.

Web Seminar

Sewing with Silks

This web seminar will teach you tricks to sewing and cutting silk successfully!

Courses

Fabric Design Course Sneak Peek

See one of the techniques you'll learn in November's Fabric Design course.
Sewing with Silks
Are you unsure how to begin working with this beautiful and useful fabric? Would you like to create the elegant clothing you have only dreamed about? If so, this web seminar is for you.
Sign up and have greater appreciation for this classic fabric, and the knowledge to begin working with it.
Enter the Fall in Love with Embroidery Sweepstakes
Enter to win one of four weekly prizes, including the PFAFF® expression™ 3.5 embroidery machine PLUS the TruEmbroidery™ elite Software.
Instructor Lauren Dahl just shared a sneak peek at one of the techniques you'll learn in he...

Love The Hunger Games? Sew up a DIY Katniss Everdeen Halloween costume! These BurdaStyle patterns...

Read on to find out more and register to get a spot in each of these new interactive courses.
Fabric Design with Illustrator & Photoshop
In this course, you'll learn exactly how to take your artwork - whether it's a watercolor painting on paper or a geometric vector image in Illustrator- and turn it into a repeating pattern ready for fabric printing!
Sign up for this 8 week course and create your own designs to be printed on fabric at on-demand printers
Pattern of the Week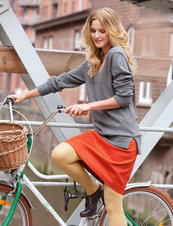 Produced by burda style magazine
If you are a Burda Fashion member, we welcome you!
For more information concerning this recent change, please see this blog post