Editors' Pick

Parlor Games: 9 New Plus Size Patterns

Twists on feminine classics, like a bold patterned shift dress and pants with a racing stripe.

Member Project of the Week

Zebra Harem Bomber Jacket

Short jackets like this zebra print bomber by Anniemollison are a must for spring.

Backstage Report

Introducing the Retro Classics Pattern Collection

The latest pattern bundle features nine vintage reissues from the 50s and 60s.

Backstage Report

Vote on the our First Interactive Sew Along

Pick one of 5 patterns for a new kind of sew along

Fashion & Trends

Sewing and Styling a Jersey Suit from Day to Night

See steps on how Meg sewed herself a transitional Jersey suit using colorful jerseys!
From Passion to Profit: Turning Your Hobby Into a Business
Thursday's Web Seminar will teach you the unique ways you can make your hobby into your livelihood!
Click here to register for Thursday's Web Seminar and learn how to GROW your hobby into something profitable.
The latest pattern bundle has nine beautiful vintage reissues, all for $24.99! You'll love ...

Pick your favorite pattern for the upcoming interactive sew along.

I love sewing with knit fabrics, and even more so I love wearing knit fabric clothing! To get rea...
Pattern of the Week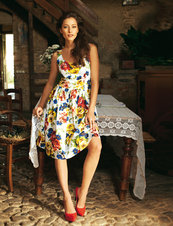 Produced by burda style magazine
If you are a Burda Fashion member, we welcome you!
For more information concerning this recent change, please see this blog post