New at BurdaStyle Videos!

Sew the BurdaStyle Men's Linen Jacket

You'll learn how to sew a fully lined jacket, a notched collar, buttoned cuffs, and much more!

Editors' Pick

La Boheme: 11 Parisian Inspired Patterns

Leopard print, stripes, and mod coats for fall.

Fashion & Trends

Top 10 Patterns: Rock & Roll Favorites

We're counting down 10 of our favorite patterns in rock & roll leather. suede, and denim!

Member Project of the Week

Kimb0's Wedding Dress

Lace, freshwater pearls, and a high low hem add up to one stunning dress!

Editors' Pick

Woodlands: 7 Whimsical Children's Patterns

Bright colors and cute animals decorate these dresses and shorts.
Enter the Ultimate Button Lovers Contest
Submit ANY project made with buttons, and you could win a $350 prize pack! Projects previously posted to BurdaStyle.com ARE allowed. Don't miss your chance to enter!
How to take your Esty Shop to the Next Level: Boost Traffic and Sales
From the perfect pictures to marketing that will leave your audience wanting more!
Sign up and and learn how to improve your marketing to gain more visibility or repeat customers!
Concept boards are a great place to explore design and fabric ideas for your garment, so you can ...

Tell us your favorites for BurdaStyle's Best of Blogging Top 50 Awards.

Meet Victoria Baylor, the bubbly personality behind our upcoming pants fitting web seminar. Read ...
Unmentionables: Create your own personal lingerie collection for all sizes and skill levels
From purely simple to elaborate designs using the most up-to-date professional design and sewing techniques for slips, camisoles, several types panties, bras, garter belts and much more.
Sign up for this 8 week course and learn how to transform the blocks into unlimited styles combining basic designs with your creativity!
Pattern of the Week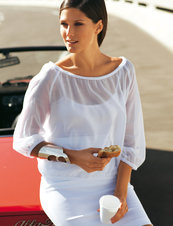 Produced by burda style magazine
If you are a Burda Fashion member, we welcome you!
For more information concerning this recent change, please see this blog post