Pattern of the Week

Extra Wide Lace Top

The oversized shape has a cool bell shaped silhouette with a wide body and fitted sleeves

Editor's Pick

Shop The Winter White Sale And Save 50%!

Stock up on our favorite BurdaStyle patterns sewn in white!

Web Seminar

No Serger? No Problem!

Learn How to Sew Knits Successfully With a Sewing Machine

Online Course

Draft Your Own Personal 5 Piece Sloper Collection

Join Meg Healy in this 6 Week Course, we have just re-opened enrollment for a limited time!

Meg's Magazine Mash Up 2014

Meg's Mash Ups in Review, and Bundled for You!

Take a look at Meg's 2014 Mash Ups, and get the special pattern bundle that includes them all
No Serger? No Problem! Sewing Knits Successfully With a Sewing Machine
Learn how to successfully sew stretchy fabrics using a conventional sewing machine.
Sign up and create perfect hems and seams using tips and techniques!
Shape wear is expensive to buy, and fun to make if you know the right fabric, sewing, and patter...

Expand your sewing repertoire with these online courses this month at BurdaStyle Academy!

Last week and I debuted my cape mash up I asked you guys what pattern I should mash up next! Many...
Digital Pattern Drafting Course.. Have you signed up?
This course will teach you how to digitally create your own library of pattern blocks in Adobe Illustrator
Sign up and learn how to modify, grade, tile and print your patterns ALL from your computer
Pattern of the Week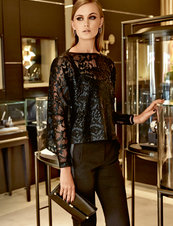 Produced by burda style magazine
If you are a Burda Fashion member, we welcome you!
For more information concerning this recent change, please see this blog post