Denise's Desk

Festival Fashions at Coachella

What do you think of these summery styles?

Sewing & Techniques

Sewing Lesson: Pleated Mini Skirt

Check out this step-by-step on sewing our wrapped and pleated mini skirt

Backstage Report

Get Back to Basics with the Latest Collection Kit

Check out the debut of this lovely designer style pattern with angular pleats

Guest Columns

Couture Challenge: A peplum-sleeve Dress

Behind the seams with Marina von Koenig Part 1

Editors' Pick

Field of Dreams: 11 Feminine Designs

Dreamy dresses, floral prints, and cute spring tops.
Web Seminar! Selling: How to Monetize your Sewing
Thursday's Web Seminar is for anyone who is ready to learn how to monetize from their sewing projects!
Click here to register for Thursday's Web Seminar and learn how to get organized to sell effectively!
The first weekend of The Coachella Music Festival is coming to a close, and as always, many conce...

When you're out shopping, you can try on clothing in a dressing room to see how it looks and feel...

Learn insider tips for using social media to promote yourself and your business. Sign up for Mon...
Pattern of the Week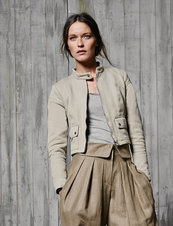 Produced by burda style magazine
If you are a Burda Fashion member, we welcome you!
For more information concerning this recent change, please see this blog post