Editors' Pick

Golden Era: 8 Patterns with Roaring 20s Style

Flirty dresses, a cropped cami, and glam trousers for modern flappers.

Editors' Pick

Hillside Holiday: 13 Oktoberfest Patterns

Check out these festive sewing patterns just in time for Oktoberfest

Fashion & Trends

Top 10 Trouser Patterns + Tips for Sewing Pants

All the fall trouser sewing inspiration you need.

Pattern of the Week

Boxy Jacket with Leather Panels

This jacket is a mix of mod and military and will change the look of any outfit!

Editors' Pick

Field Trip: 11 Patterns for the Countryside

Go far afield in this collection of bib dresses, waistcoats, and wool jackets in textured fall fabri
Adobe Photoshop for Fashion Design
This webinar teaches you the basic functions of Adobe Photoshop and all the necessary techniques to aid you in creating professional looking Concept boards, Customer Collages or Fashion Story boards!
Sign up and learn the digital techniques geared towards fashion projects
Enter the Magic Pattern Book Sewing Contest
Sew up the Adelaide, the Francesca, or any other pattern from The Magic Pattern Book, and you could win a new Baby Lock Serger!
Take a trip through the hills in these old fashioned designs for you and the kids, perfect for Ok...

It's time to retire the sundresses and snuggle up in cardigans and trousers. Scroll through...

Have you always dreamed of becoming a fashion designer? Do you want to dedicate more of your tim...
The Perfect Fit: Tailoring Course
Through video and illustrated tutorials, learn how to apply your body measurements to create a set of slopers from scratch and how to copy garments to produce a pattern that fits you perfectly!
Sign up for this 6 week course and polish up your fitting techniques to adjust patterns effectively and alter RTW garments.
Pattern of the Week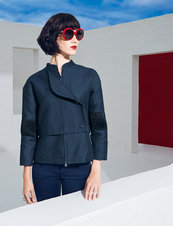 Produced by burda style magazine
If you are a Burda Fashion member, we welcome you!
For more information concerning this recent change, please see this blog post