Editors' Picks

Diner Dancing: 8 Patterns

This updated pattern collection from 02/2010 features flirty frocks that beg to be danced in!

Member Project of the Week

Pititemarjo's Liberty Straplesss Dress

The fabric and fit of this lovely strapless dress are pure perfection!

Courses

Meg's Sloper Course

We are running this course again, & it starts tomorrow! You'll also get the bra & panty sloper

Editors' Pick

Red Romance: 9 New Patterns

This beautiful collection is your perfect solution for a date night!

Courses

BurdaStyle Academy

Check out our clickable May BurdaStyle Academy Course Calendar to see which topics start when!
Pattern Grading for All Sizes
In this course, you'll learn the three major methods of pattern grading: Ruler Grading, Shift Grading, and Slash-and-Spread Grading!
Va va voom! This beautiful collection is your perfect solution to a night out with your girls or ...

Take a sneak peak into Katrina Walker's trip to film our brand new Serger 101 Course!

Check out what's going on in May 2015 on BurdaStyle Academy! This clickable calendar makes ...
Pattern of the Week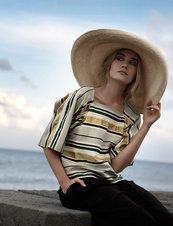 Produced by burda style magazine