Meg's Magazine Mash Up 2014

October Pattern Reveal

See what pattern Meg is "mashing up" and see how you can easily sew along too!

Editors' Pick

Well Traveled: 9 Globetrotting Patterns

Pull inspiration from faraway cultures with this rustic, travel-ready collection.

Fashion & Trends

Paris Fashion Week Spring 2015

Looks from Dior, Lanvin, and Balmain.

Pattern of the Week

Princess Sheath Dress

The heart-shaped neckline and matching belt with buckle give this dress that retro feel.

Editors' Pick

Open Road: 11 Fall Patterns

Fill the tank and hit the road on a rock and roll inspired autumn adventure.
How to Make Halloween Costumes with Your Fabric Stash
During this webinar, you'll learn how to make custom costumes without sewing patterns AND use your left over fabrics to sew something new!
If you're unsure of what you are going to be for Halloween this year, sign up for this web seminar!
Enter the Magic Pattern Book Sewing Contest
Sew up the Adelaide, the Francesca, or any other pattern from The Magic Pattern Book, and you could win a new Baby Lock Serger!
Register here and join me on this 6 week course to your perfect fitting tailored pattern

The most glamorous, over the top fashion week of them all starts now. Take a look at a few of the...

If you're ready to take on the challenge and make that final leap from skilled sewer to professio...
The Perfect Fit: Tailoring Course
Through video and illustrated tutorials, learn how to apply your body measurements to create a set of slopers from scratch and how to copy garments to produce a pattern that fits you perfectly!
Sign up for this 6 week course and polish up your fitting techniques to adjust patterns effectively and alter RTW garments.
Pattern of the Week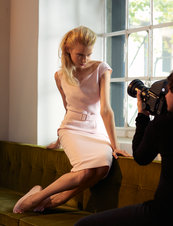 Produced by burda style magazine
If you are a Burda Fashion member, we welcome you!
For more information concerning this recent change, please see this blog post