Courses

Pattern Making 101

Meg debuts her brand new course this weekend designed as an intro to pattern making!

Pattern of the Week

Hooded Cowl Neck Dress

This cowl neck dress has a deep cowl that can be transformed into a hood whenever the mood strikes

Patterns

New BurdaEasy Pattern

Check out our latest BurdaEasy bustier top pattern with 2 different variations included!

Editors' Pick

Metropolitan: 9 New Plus Size Patterns

This new Plus Size collection is full of office-ready staples for your fall wardrobe

Meg's Magazine Mash Up

Halter Jumpsuit Reveal!

Meg has finished her jumpsuit, check out her mash up along with other member variations
Pattern Making 101
Have you always wondered about pattern making and wish you knew how to work all those drafting rulers to create your own stylized sewing patterns? This course is all about the 101 of pattern making!
Are you thinking about running an online store? Do you want to make your dream of selling your a...

Hi BurdaStylers! In this sewing post I actually finished sewing my halter jumpsuit… and it ...

Check out what's going on in August 2015 on BurdaStyle Academy! This clickable calendar mak...
Pattern of the Week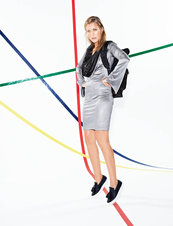 Produced by burda style magazine