Pattern of the Week

Banded Dress

This slim-fit dress makes a perfect cocktail dress for this time of year!

Editors' Pick

Winter Darling: 8 New Patterns for Girls

Sweet dresses, an outfit for a doll, and cute embellishments are fun for the holidays!

Meg's Magazine Mash Up!

The November Issue

Check out Meg's latest mash up of our Straight Skirt, and how she made it look so yummy!

Member Project of the Week

Elie Saab Inspired Dress

The latest Elie Saab collection inspired this hand-beaded dress by chanel2005.

Editors' Pick

Holiday Lights: 13 Festive Patterns

Celebrate with lovely dresses, sparkly dolman tees, and an embellished peplum skirt.
Learn to Combine Patterns to Customize Your Sewing!
Learn how to combine different commercial patterns into a single garment to make it the most stylish, figure-flattering look for YOU. Don't miss out!
The latest limited edition kit has gifts for everyone on your list, including you!

Looking polished and professional doesn't mean giving up pretty fabrics and fun details. Yo...

Learn how to turn a digital file into a dress with this week's featured video!
Pattern of the Week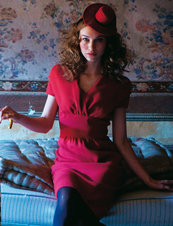 Produced by burda style magazine
If you are a Burda Fashion member, we welcome you!
For more information concerning this recent change, please see this blog post