Backstage Report

Surprise Birthday Sale!

We're wishing Meg a happy birthday with 50% off her favorite patterns.

Pattern of the Week

Vintage Lace Blouse

This boho lace top is the perfect piece to start wearing this time of year.

NEW on BurdaStyle Videos!

How to Sew the Crossover Pants

Becky MacKinnon will guide you through each step of sewing the stylish BurdaStyle Crossover Pant

Web Seminar

It's time to increase your sales!

How to Grow Your Creative Business: Expand Your Portfolio and Reach a New Market

Editors' Pick

Rose Hip: 8 Plus Size Designs

Sashes, drape, and a wrap cardigan in mauve for pretty fall days.
How to Grow Your Creative Business: Expand Your Portfolio and Reach a New Market
If you have a web presence of any kind for your creative products, Denise Wild will show you how to make that web presence profitable.
Sign up and Learn how to ensure you're making maximum profit
Enter the Magic Pattern Book Sewing Contest
Sew up the Adelaide, the Francesca, or any other pattern from The Magic Pattern Book, and you could win a new Baby Lock Serger!
BurdaStyle's very own Meg Healy turns 25 this weekend! Help her celebrate the quarter centu...

This is a great video to watch if you want to sew a pair of stunning pants and advance your sewin...

If you already have a business or a product you're selling, this web seminar will help you grow y...
The Perfect Fit: Tailoring Course
Through video and illustrated tutorials, learn how to apply your body measurements to create a set of slopers from scratch and how to copy garments to produce a pattern that fits you perfectly!
Sign up for this 6 week course and polish up your fitting techniques to adjust patterns effectively and alter RTW garments.
Pattern of the Week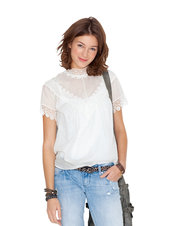 Produced by burda style magazine
If you are a Burda Fashion member, we welcome you!
For more information concerning this recent change, please see this blog post