Editors' Pick

Turquoise Oasis: 13 Desert Inspired Designs

Hit the road in easy dresses, slouchy tees, and bootcut pants.

Competitions

Member Model Challenge: Pleated Designer Dress

Be the face of one of our exclusive patterns on BurdaStyle.com!

Fashion & Trends

Wedding Trends: Bridal Fashion Week Spring 2015

Swoon for these gorgeous dresses straight off the runway!

Member Project of the Week

Partly Sunny Frock

See how just a piece of sheer satin transforms this beginner friendly dress!

Sewing & Techniques

Sewing Lesson: Pleated Mini Skirt

Check out this step-by-step on sewing our wrapped and pleated mini skirt
Pattern Drafting: Learn How to Develop your own Personal Bodice and Skirt Slopers
In Monday's Web Seminar learn how to develop slopers from YOUR body measurements, which you can use to create all kinds of new designs that you know will fit!
Click here to register for Monday's Web Seminar and learn how to manipulate basic slopers and add design elements.
The first weekend of The Coachella Music Festival is coming to a close, and as always, many conce...

When you're out shopping, you can try on clothing in a dressing room to see how it looks and feel...

Learn insider tips for using social media to promote yourself and your business. Sign up for Mon...
Pattern of the Week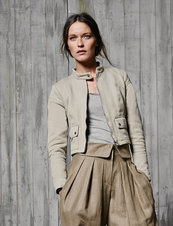 Produced by burda style magazine
If you are a Burda Fashion member, we welcome you!
For more information concerning this recent change, please see this blog post