Editors' Pick

Ticket to Athens: 9 New Designs

The lines of Greek architecture inspire this neutral and pastel collection.

Meg's Magazine Mash Up!

June Issue

Check out Meg's variation of our Drawstring Gym Shorts, and see how she made them high-fashion!

Featured Member

Featured Instructor: Lauren Dahl

Meet this seamstress, mom, jeans lover, and the instructor of our digital pattern drafting course!

Pattern of the Week

Long Sleeve Maxi Dress

This timeless style ties at the back and looks stunning at formal events

Competitions

Member Model Challenge Winner

The results are in! Check out our winning submission.
Digital Pattern Drafting Course.. Have you signed up?
Do you love creating your own sewing patterns - but wish there was an easier, quicker way than tracing, re-tracing, taping, measuring?! This course will teach you how to digitally create your own library of pattern blocks!
Sign up for this 8 week course and learn the digital method from the start.
"The Next Level Knock-Off": Creating Patterns from Ready-to-wear Designs
Do you have that little black dress or other garment that you find yourself wearing all the time because you just love the fit and or placement of garment details? Learn how to transfer the fit of your garment to paper and create sewing pattern from it!
Sign up and create sewing patterns from garments you already have in your wardrobe and like the fit of!
Finally made these shorts! I could have not asked for a better result, and the fit is perfectly l...

Meet Lauren Dahl: seamstress, mom, jeans lover, and the instructor of our upcoming course on digi...

This video will teach you valuable sewing techniques and clothing construction skills that will ...
Pattern of the Week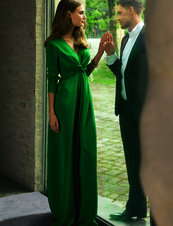 Produced by burda style magazine
If you are a Burda Fashion member, we welcome you!
For more information concerning this recent change, please see this blog post