Course

Digital Pattern Drafting

Use Coupon Code: May20Digital and get 20% OFF!

Editors' Pick

Serengeti Dreams: 8 New Plus Size Patterns

You'll find dramatic sleeves, light summer coats and cardigans all desert inspired

Denise's Desk

Janome Giveaway

Share a tip for a chance to win this Janome serger ($499 value)!

Course Starts TOMORROW!

Fabric Design with Illustrator & Photoshop

Learn how to take your artwork and turn it into fabric that is ready for printing!

Videos

Save 30% on all Project and Technique Videos!

Coupon Code MAY30 is valid on ALL of our On-Demand Videos
Dresses: Advanced Pattern Adjustments
This course will teach you how to manipulate darts, create various stylized neckline, add volume and fullness, pattern pleats and gathers, combined patterns and adjusting style lines.
Enter coupon code MAY30 at checkout! Start shopping now!

We had great success with our first member model challenge ( you can see all the winners here ) t...

Nasya fell in love with sewing when she was five years old. Taught by her Grandmother who's...
Pattern of the Week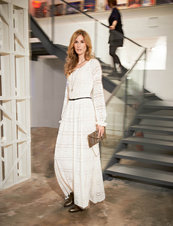 Produced by burda style magazine