Meg's Magazine Mash Up

05/2017

This week Meg hammers in the grommets to her floral top and sews the sleeve bands

Tips & Techniques

Quick Tip

Have a zipper that is too long? No problem, you can easily shorten it to fit your garment's edge

Pattern Collection

Buena Vista: 10 NEW Women's Sewing Patterns

These patterns from the 05/2017 issue are wonderfully designed for days soaking in the sunshine!

DIY

Makeup Bag

Sew yourself a fruity beauty bag to take with you on your summer vacations - or keep in your purse!

Sewing Lesson

Knot Dress

Have a free afternoon and some jersey? Then you can quickly sew together this knot dress!
Info

Produced by burdastyle

Type

PDF

Size

N/A

Difficult

Novice

Rating
Need vitamins? Then we recommend that you sew several of these fruity beauty bags – the large wa...

Follow this sewing lesson to make our Knot Dress pattern that debuted in our Pure Chic pattern co...

Very excited that the weather is finally warming up here so for my May Mash Up I wanted to pick a...
Pattern of the Week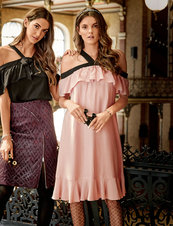 Produced by burda style magazine