BurdaStyle Holidays

Advent Calendar

Check to see the daily deal in our Advent Calendar! Deals (and sometimes free stuff) until the 25th

Meg's Magazine Mash Up

High Collar Dress

Meg starts to sew her plaid and floral Mash Up dress!

Editors' Pick

Glamour Shot: 10 New Patterns

This collection features modern & wearable patterns that include oversize sweaters and dresses!

Pattern of the Week

Oversize Kimono Jacket

This chic oversized kimono jacket has a shawl collar and raglan sleeves perfect for layering!

Editors' Pick

Deck the Halls: 11 Patterns

This updated collection features beautiful patterns fit for a holiday party!
Sew and Draft Your Own 10-Piece Lingerie Collection
This course will give you the tools to become your own lingerie expert and you will excel both as a sewer AND pattern drafter!
This collection from the December 2011 issue of BurdaStyle features beautiful patterns fit for a ...

Happy Thanksgiving from the BurdaStyle.com team! We've rounded up some of our favorite Holi...

We have a special announcement about kits coming soon on BurdaStyle.com… But in the meantim...
Pattern of the Week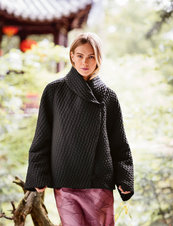 Produced by burda style magazine