DIY

Make Your Own Tassel Earrings in Only 3 Steps!

Like to upgrade simple outfits with accessories? No problem with these earrings!

New Pattern!

Retro Style Dress

We love when Burda brings back and reinvents a retro pattern - this one is originally from 1958!

Quick Tip

Upcycle a Shirt into a Girl's Dress

What to do with old men's shirts? It can be sewn into a sweet-and-sweet girl's dress!

Fashion & Trends

Get the Look: The Bachelor

We've been watching this season and are all about the dresses!

Pattern Collections

Far and Away: 7 NEW Women's Sewing Patterns

These patterns are fashionable for the outdoors and at the office with striking details
Italy Fashion Tour with Burda!
Escape with fellow sewists to an exclusive trip around Italy touring everything from wineries to fashion houses.
If you are like me, and you love to watch The Bachelor, and are part of #BachelorNation, then you...

Statement pieces with pronounced embroidery in a style tapped from the Andes. These patterns are ...

In addition to our new collaboration with Sprout patterns we also developed a line of fabric prin...
Pattern of the Week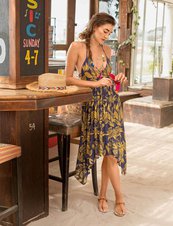 Produced by burda style magazine