Fashion & Trends

Fall Coat Trends

Six coat trends you should have on your fall sewing list!

Pattern Collections

La Dolce Vita: 10 New Plus Size Women's Sewing Pat

Sexy cuts that accentuate beautiful curves!

Pattern of the Week

Knotted Shirt

What is better than a knotted blouse? A knotted T-shirt!

Academy

Brand New Course!

Join Meg for her new course From Sketch to Pattern: Design Your Own Skirt and Tops

Pattern Collections

Fashion Night Out: 11 NEW Women's Sewing Patterns

Sexy ladies, scorching outfits and a whole lot of fun in this collection from November 2016!
New Online Course: From Sketch to Pattern
With the help of this course, you will be your own designer and pattern maker and create truly unique garments!
With unfinished edges or made of leather – asymmetric peplums add new interest to old garments! O...

This collection is from January 2010 issue of BurdaStyle features four patterns sewn out of fun g...

Hi BurdaStylers! I have been super busy lately being present at all of the fall Original Se...
Pattern of the Week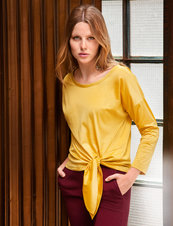 Produced by burda style magazine