DIY

Baby Hat

Baby's first trendy accessory. Jersey caps are darling and very quick to make!

Sewing Projects

1 Dress 3 Different Ways

See how Med sewed and styled one of our top patterns into a very versatile dress!

Meg's Magazine Mash Up

09/2017

This week Meg stitches up the side seams and gathers in the sleeves to a ribbon cuff!

Quick Tip

Cropped Hem

This way of sewing a "cropped" hem is both an easy and secure way of finishing chiffon fabrics!

Fashion & Trends

Emmy Awards

We recap our favorite fashions & trends seen on the red carpet, and how you can make them yourself!
New Course!
Licensing is a fun and unique experience that combines a prospective business opportunity and the ability to enhance your love of sewing.
Info

Produced by burdastyle

Type

PDF

Size

N/A

Difficult

Novice

Rating
Hurry up! Bold vintage prints are everywhere this season. We used one to sew a halter top that is...

It might not look like it, but the instructions for this glamorous dress style are very easy to u...

A new month equals a new mash up! This month I'm sewing up a blouse in a fall floral crepe that I...
Pattern of the Week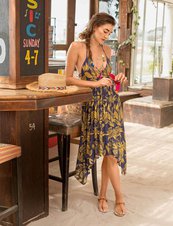 Produced by burda style magazine