As Seen In

BurdaStyle in Sew News

See the latest Pattern Play article in the latest issue of Sew News magazine!

Meg's Magazine Mash Up

07/2017

In part two Meg sews the sleeves, attaches the neck band, installs the zipper, and finishes the hem!

Quick Tip

How to Make a Tassel

Tassels are a quick way to add extra decoration to your garments & they can be made into accessories

Pattern Collections

Clean Lines: 8 NEW Women's Sewing Patterns

Meetings and after work cocktails get a stylish and self-confident quality with these new patterns!

DIY

Beach Towel & Bag

This bag includes an additional terry cloth on inside so that it quickly becomes a towel!
New Course!
Licensing is a fun and unique experience that combines a prospective business opportunity and the ability to enhance your love of sewing.
A practical bag can also be fun. This one includes a terry cloth one inside so that it quickly be...

Exciting news over here! This new podcast (hosted by me!) will provide fashion trend inspiration,...

It was pretty tough deciding on what pattern to "Mash Up" from the 07/2017 issue. All I knew is t...
Pattern of the Week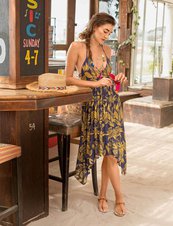 Produced by burda style magazine