Backstage Report

Winter Chill Pattern Bundle

Shop five of our most popular sewing patterns for the price of four!

DIY

Key Chain

Use your scrap fabrics to make these lovely little keychains

Sew Alongs

How to Make a Faux Fur Shrug

Keep cozy and stay stylish this season and make your own faux fur shrug! Click to see how...

Meg's Magazine Mash Up

Floral Dress Reveal

Meg completes her dress, click to see more images and how she sewed the hem!

Member Highlights

Featured Member: Mari-Liis Ööpik

Our latest featured member is Mari-Liis Ööpik, also known as, Zoaki!
On-Demand Courses
Choose from over 25 on-demand courses that are available anytime you want!
We all know how keys can accumulate, so why not make your own little key chains from scrap fabric...

This season I have and had a lot of special occasions where I want to keep warm and still look el...

Hi BurdaStylers! It feels so good to photograph something I have made again, it has been a while ...
Pattern of the Week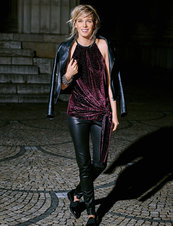 Produced by burda style magazine